I do hope I'm not bothering you too much but there's something I'm trying to do but just having a lot of difficulty figuring out. I made a mock up of how I'd like to get the tables looking on the site.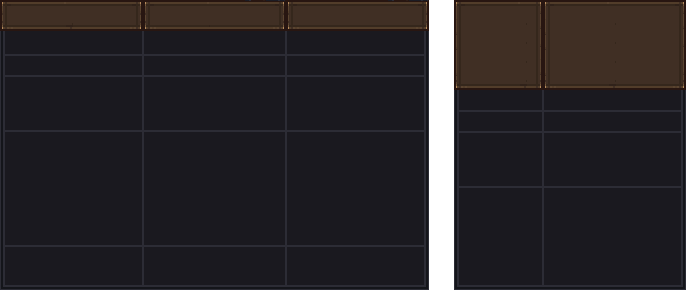 I'd ideally like to 9-slice this for the header

and this for the body

or if that might be a little difficult for the body just an outer border weight that looks alright and #1a191f for the background. In the mock up I think it does well with a 2px border weight and the color on that is #2a2d37.
I'm just not really great with css to begin with and the tables are a little involved. Quadrapod (talk) 03:35, 5 June 2018 (UTC)
Well, to be honest, tables can be the greatest shit to do. You somehow managed to exchange the sorting arrows here: Special:Interwiki. That's one of the worst tables to get right, always needs the speci*ö*l extra with those arrows. That's why I really like to give them just one colour for header and one for the body and try to avoid giving them images or gradients when skinning. I'm afraid, it probably is best to revert and start with an extra class for the table of yours.
Have you tried Border-image? Or maybe with all the settings the background in css offers (might stretch really fugly)? With border-style: double solid; you can achieve something similar like this body image. Encredechine (talk) 07:46, 5 June 2018 (UTC)
Hey again, haven't forgotten that issue and will hopefully get back later! (sorry, it's due date of another wiki!) Encredechine (talk) 11:10, 5 June 2018 (UTC)